Inspired by nature. Influenced by minimalism.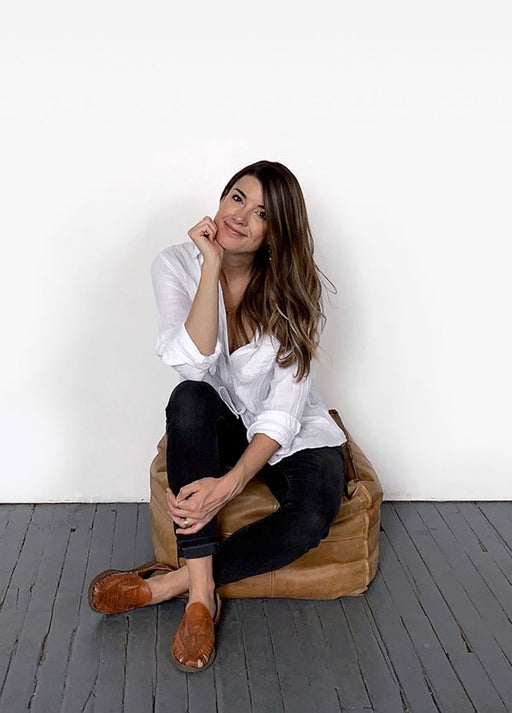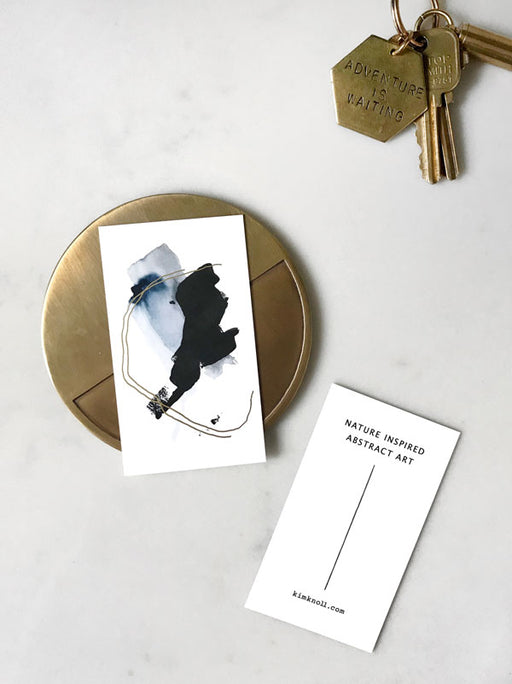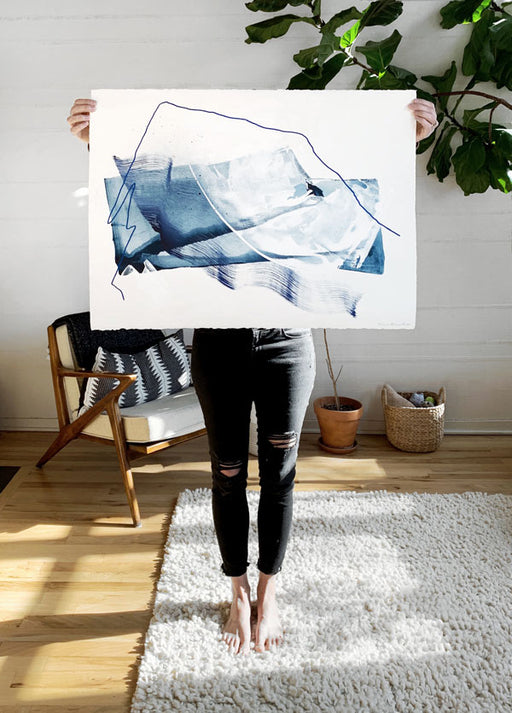 About The Work
Inspired by nature and influenced by minimalism, my works on paper are composed from an unique perspective. I love living in the city of Chicago, but I often crave spending time outside exploring lakes, mountains, forests, and coastlines through hiking and camping. These experiences have become the inspiration behind my work in essence to bring the outdoors inside modern spaces and urban environments. Working with a variety of mediums including acrylic, watercolor, ink, graphite, spray paint or charcoal, and a refined color palette, I think of shapes, movements, and textures found in nature to inform and guide each painting. I bring positive feelings into my art, pulling from joyful memories or a peaceful mood. I hope my art brings that same joy and peace to others while offering a momentary escape from the everyday.
About Kim Knoll
Kim Knoll is a contemporary artist with a BFA in Visual Communications from Northern Illinois University. She developed her painting style through 19 years of professional experience as a graphic designer. Within one year of pursuing painting as a personal endeavor, Kim's work gained recognition from collectors, art consultants, and interior designers, eventually allowing her to switch her focus to painting full-time. Today, Kim produces original paintings and prints for luxury homes and brands worldwide like The Ritz-Carlton Hotels and Yacht Collection, Four Seasons Hotels, Waldorf Astoria Hotels, CB2 and Crate & Barrel. Her work has been featured in Chicago Magazine, Style By Emily Henderson, and Women United Art Magazine.

Kim also co-founded Knoed, a branding and graphic design studio that helped more than 55 businesses and startups in need of creative strategy, visual identity, print and digital design from 2011-2022. During this time, Kim was also the Organizer + Host of the CreativeMornings Chicago chapter from 2012-2016, volunteering her time to produce 48 events for Chicago's creative community.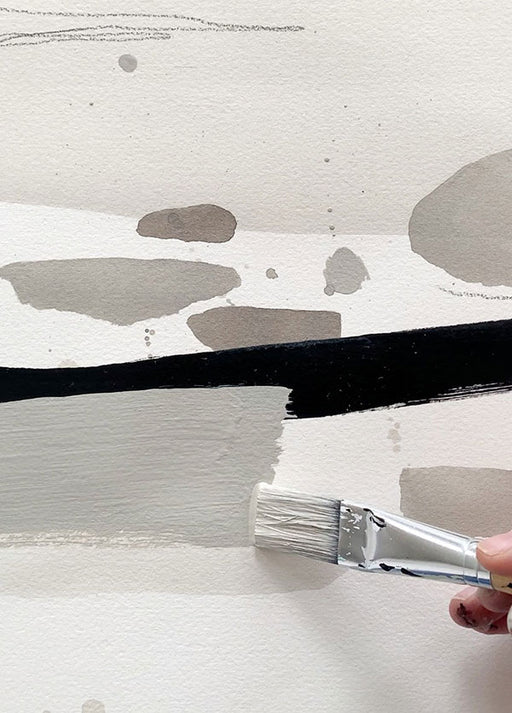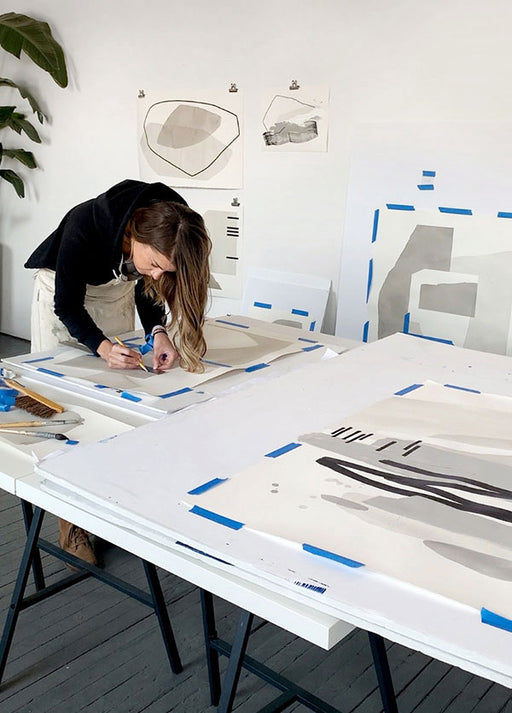 Solo Exhibitions
• 2019, Jun 26-Sep 3, Neighborly, Chicago, IL
• 2018, Nov 16-18, The Martin, Chicago, IL
Group Exhibitions
• 2023, Jun 23-Jul 28, The Martin, Chicago, IL
• 2018, Aug 28-Oct 19, NIU Art Museum, DeKalb, IL
Select Commissions
• 2023, Norwegian Cruise Line, Grandeur Cruise Ship
• 2023, JW Marriott Essex House, NYC
• 2023, CB2, Spring/Summer Collection
• 2022, The Ritz-Carlton Yacht Collection, Evrima Yacht
• 2022, P&O Cruises, Arvia Cruise Ship
• 2022, CB2, Fall/Winter Collection
• 2021, Norwegian Cruise Line, Prima Cruise Ship
• 2021, Bank of America Tower, 110 N Wacker
• 2020, The Ritz-Carlton Yacht Collection, Evrima Yacht
• 2019, 7 For All Mankind, Milan Flagship Store
• 2018, Chronicle Books, The Spells Deck
Select Features
• The Ritz-Carlton Evrima Yacht
• The Ritz-Carlton Grande Lakes, FL
• The Ritz Carlton Residencies at Chevy Chase, MD
• Four Seasons Jackson Hole, WY
• Four Seasons Vail, CO
• Bellagio Hotel Las Vegas, NV
• Virgin Hotel Las Vegas, NV
• Waldorf Astoria Doha, Qatar
• Waldorf Astoria—The Avenues, Kuwait
• JW Marriott Desert Ridge Phoenix, AZ
• JW Marriott Essex House, NYC
• Hotel Martinez, Cannes, France
• One Palm, Dubai
• The Westin, London City
• Capitol Tower, Singapore
• Sino-Ocean Hangzhou Kempinski Hotel, China
• Whitley Hotel Atlanta, GA
• P&O Arvia Cruise Ship
• Norwegian Grandeur Cruise Ship
• Norwegian Prima Cruise Ship
• Norwegian Viva Cruise Ship
• Norwegian Vista Cruise Ship
• Norwegian Sky Cruise Ship
• Celebrity Edge Cruise Ship
• Silversea Silver Nova Cruise Ship
• Artyzen Lingang Hotel Shanghai, China
• 7 for all Mankind Milan Flagship Store, Italy
• 7 for all Mankind Berlin Store, Germany
• Bank of America Tower, Chicago
• Sonesta Chicago Riverfront Hotel
• Baptist Hospital Miami, FL
• Chateau Elan Winery + Resort, GA
• Addison Reserve Country Club, FL
• Kimpton Hotel Monaco Portland, OR
• Westin Kierland Scottsdale, AZ
• Pendry Residences Park City, UT
• Montage Resort Laguna Beach, CA
• Hotel Clio Denver, CO
• AC Hotel San Diego, CA
• AC Hotel Brentwood, TN
• AC Hotel Fort Worth, TX
Q&A
Where did you grow up and where are you now?
What originally drew you to making paintings?
Can you describe your creative process?
What is the best advice you could give a novice artist?
What is your go-to for inspiration?
Why do you work on paper and not canvas?
I've used Kim's art for a number of projects over the years and can't say enough about working with her. She consistently adds new work, she is always quick to reply, and her artwork is ALWAYS stunning!
— Lindsey King, Art Consultant, DAC Art Consulting